Stereoview References & Resources
---
New Book on Dakota Photographers
"They Captured the Moment"
By: Robert Kolbe and Brian Bade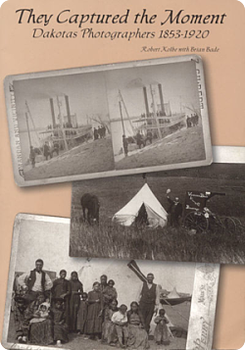 The history of the American Frontier West has been written about since its beginning. Its visual history has been photographed from about 1850. The writers have been well documented but photographers with few exceptions were not noted for their efforts to record what today we would call historic people, places and events.
​Dakota Territory has always had an aura of the "Wild West". Many people and institutions collect the photographic record of the territory and two states. Book collectors know authors but many photo collectors, museums and historical societies have no idea who were the "authors" of the photos they possess.
A new book, They Captured the Moment will help not only collectors and institutions but also genealogists. Here one will find three indices of those who recorded the visual history of Dakota Territory as well as North and South Dakota from 1853 to 1920.
The photographers are arranged by 1) surname, 2) town, and 3) year they began operation. The three indices are separated by two photograph sections that deal with Daguerreotypes, Ambrotypes, Tin Types, Carte-de-Visites, cabinet cards, stereographs, real photo postcards and a variety of other formats. A total of 100 photographs, most never before published, are provide with illuminating captions. These photos will help bring life to the work of over 1,700 photographers listed.
This project took over twenty years of research. Robert Kolbe (Sioux Falls) with the help of Brian Bade (Rapid City) have now published their work. It will be the primary research tool for anyone interested in Dakota's visual history.
Robert Kolbe is a former teacher who has owned and operated an antique book and clock repair shop for 35 years in Sioux Falls. He is currently in his 5th term as a Minnehaha County Commissioner.
​Brian Bade is a retired fighter pilot with the South Dakota Air National Guard. He lives in the Black Hills of South Dakota and operates a bookstore that specializes in rare, regional books in Rapid City.
​They Captured the Moment by Robert Kolbe with Brian Bade is available in hardcover for $42.50 plus 6% SD tax, shipping and handling. Softcover edition is available for $29.95 plus 6% SD tax, shipping and handling. The book is available from Dakota Photo, 1301 S Duluth Ave., Sioux Falls, SD 57105 or by calling 605-332-9662. Also available at
Amazon.com
.
---